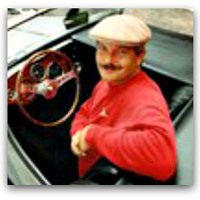 Without these two 'Giants', Fred (FreddyK) Kuzyk and Carl Mills, on whose shoulders the current volunteers stand, it is highly unlikely that the History Hangar would exist.
Please take a moment to read Bill Bishop's story (below) about the 
pivotal role each played in getting the History Hangar started.
Fred Kuzyk [Freddy K]            Carl Mills
Fred (FreddyK) Kuzyk
In July of 2001 Fred started Freddy K's Unofficial 400 Air Reserve Squadron Web Pages on the Geocities web site. Thanks to Fred's hard work this site flourished and remained the 'go to' site for anything 400 squadron with a list of members posted, along with loads of photos, articles and the excellent "On Guard" series that Fred wrote. We are fortunate enough to have the complete series on our site in written form, click HERE. One 
episode was 
recorded  by Fred for our
AUDIO BOOKS BAY
Many old squadron mates were reunited thanks to Fred's efforts.  In my case I got back in touch with Gerry Stewart, Barry Hubbard, and Garry Alexander after 40 some years,
When Yahoo, who bought Geocities, closed it down in 2009 a lot of ex 400 types were at a loss for a place to keep informed of what was happening.  I contacted Gerry Stewart to see if he had some squadron photos as I had lost all mine in one of my many moves.  He advised me of FreddyK's site closure and sent me the photo's he had.  
I started the
"PropWash Blog"
(the predecessor of the History Hangar website) in late 2009 and contacted Fred (I'd never met him personalty) and he was kind enough to send me all the information and pictures he had from his website.  More importantly he offered much sound advise as to what could be expected and what the pitfalls I should be aware of.  He very kindly gave his permission to use his material which became much of the original content for the PropWash Blog.
Fred and I met face to face for the first time in August 2010 at "da Bash" a BBQ party, that Garry Alexander and I hosted at my daughter's home in Richmond Hill.  You can see the video Fred took of this event and the story behind "da Bash" by clicking HERE.  
In 2011 Fred's original site was found, almost fully restored, by a site in Holland  OoCities.org who's mission was to download as much of the Geocities sites as possible before it was permanently closed in October of 2009.  They were successful in recovering much of FreddyK's original site which can be viewed HERE.
It is thanks to Fred's 
mentor-ship, guidance, and active participation in the early years that the PropWash Blog and now the History Hangar became what they are to-day.  He is is truly The Father of Downsview in Cyber Space.
It was also at "da Bash" in 2010 when Carl Mills and I first met. We had a lengthy discussion of the many projects Carl had 

under way and completed.  I advised Carl that he could store his completed information on the PropWash Blog.  
Carl provided, and I processed, so much of Carl's quality information that I decided to start the History Hangar Website to properly accommodate Carl's information. Thus the birth of the History Hangar Website.
I want everyone to understand how fortunate we are to have Carl, who possesses a detailed knowledge of historical research and the 

tenacity, drive and desire to not only seek out missing or inaccurate portions of 400 Squadron's history, but to ensure it is historically accurate.
Here is only a partial list of Carl's contribution to the History Hangar.
400 Squadron's Honour Roll Members

400 Squadron's Commanding Officers

400 Squadron's Artwork collection

Many entries for our Final Flight Roll Call

Several written overviews of 400 Squadron's History

The creation of a large numbers of award winning Dioramas depicting 400 Squadron aircraft

Carl has been the driving force behind, and in many cases the sole action person, for many of the projects undertaken by the 400 Squadron Historical Society.  
The following identify just a few of these projects:
The forming of the 400 Squadron Historical Society

Locating, proper storing of, and making duplicates of the 110 Squadron Pennant 

400 Squadron Monument creation and dedication

400 Squadron and 411 Squadron Standards 'Laying Up' ceremony at Beechwood 

Cemetery

 and the preceding photo

opportunities t

our

Commissioning of new Squadron Artwork 

Ad Astra Stone and Brass Poppy projects
Carl's attention to historical detail and accuracy is a legacy all current and future volunteers have, and will strive to attain, with any new information created for the History Hangar.
With our heartfelt thanks,
The History Hangar Team